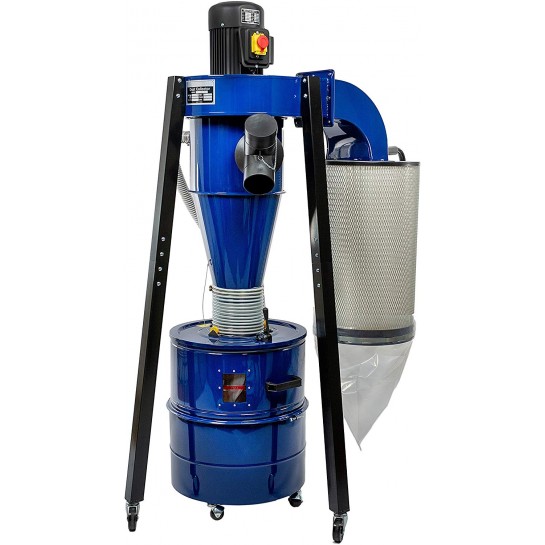 View larger
DUST COMMANDER CDC103 - Cyclone dust Collector 1hp 380V 3 Phase
DUST COMMANDER CDC103 - 1HP Portable Cyclone Dutrhst Collector - three phase
3 Item Items
Warning: Last items in stock!
Availability date:
The DUST COMMANDER CDC103 Portable Cyclone Dust Collector features an input air flow of 850m/3 and up to 2.4Kpa of static pressure, creating a vortex of incoming air that extracts heavy wood chips and large dust particles into a plastic-bag-lined steel drum.
The remaining fine dust traveling past the impeller, is caught by a canister filter and then deposited in a separate plastic collection bag.
The spun-bond polyester filter catches 99.9% of particles to 1 micron in size and is pleated to provide maximum surface area for efficient air flow.
A turn of the crank handle rotates the paddle brushes, knocking caked-on dust off of the pleats to keep your airflow rate as high as possible.
The collection drum features a quick-release handle that makes it easy to roll it out for sawdust disposal.
A viewing window lets you know when to empty the drum, and a unique vacuum equalization system allows the use of plastic collection bags for easy chip disposal.
2 x 100mm ports allow you to connect multiple machines.
This cyclone has a normal operating sound range < 85 dB
SPECIFICATIONS:
Motor: 1 HP, 380V, three-phase, 2A
Intake hole size: 150mm with 2 x 100mm "Y" adapter
1.0mm thick steel construction
Airflow capacity: 850m3/h @ 0.44Kpa
Max static pressure: 2.4kPa
Filtration: 1 micron
Filter surface area: 2.6m3/h
Collection size: 75 liters
Sound rating: < 85dB
Overall dimensions : 92 x 119 x 176cm
Approximate weight: 65kg
Approximate shipping weight: 70kg
FEATURES:
Collection drum with quick-release handle for easy disposal
Two-stage operation for ultimate dust collection
Swivel casters
Lift handle and roll drum for easy sawdust disposal
Pleated filter with paddle brushes and crank handle for max air flow efficiency
Vacuum equalizer built into collection drum for use with disposable plastic bags